---


2012-12-03:
So, on Friday, we put the Christmas decorations up. Suffice to say, Niklas and Zoe are out of their minds with excitement these days. The next three weeks will be... something. Yesterday, we went to see the lights at the zoo (part of their cleverly titled "Zoo Lights" festivities) and Zoe's jaw literally dropped when she saw all of the Christmas stuff. I've never seen anything like that before. She eventually collected herself and uttered a solemn "that's awesome."

In non-the-kids-talk-non-stop-about-Christmas news, Niklas swam the length of the pool by himself at his swimming lesson yesterday. This is a marked improvement over the sink like a stone style that has been his go to pool activity for years.
---
2012-12-04:
Did I mention that while we were at Zoo Lights on Sunday that we took the kids to see Santa Claus? Well, we did. Niklas says he knows that he saw the real Santa because "he said he already knew if we were good or not." Niklas put in a request for a green lightsaber while Zoe asked for princesses. Not that I have insider information or anything, but I'm betting St. Nick will come through with that.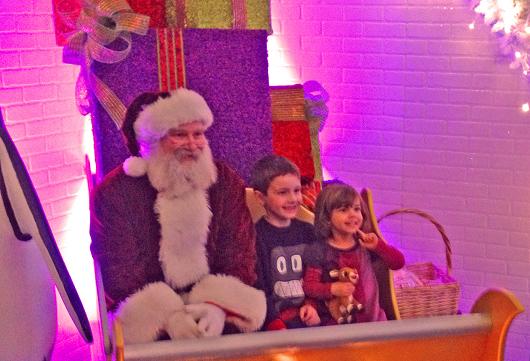 Zoe had her music class today. For the last few weeks she's been even more into the jumping and dancing than she was before (which, I'm sure I've mentioned, was a fair amount). She put on a mid-90s Roskilde or some such display of circle pitting and pogoing. At one point, I thought she was going to shout "Slayer!" albeit with a smile and in her cute little girl voice.

There are some new pictures up here.
---
2012-12-09: Sorry for the lack of updates of late. Niklas's Godfather has been in town, so we've been busy. I'll have a full (ish) recap tomorrow including tales of bouncy houses, tree decorating and bowling/drunk avoidance. In the meantime, please to enjoy these: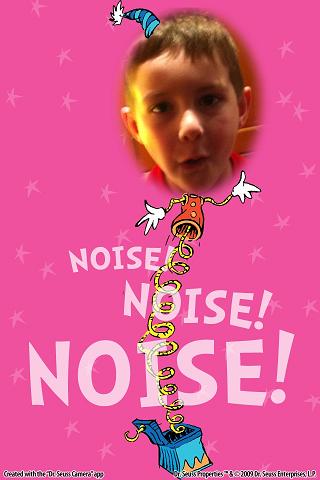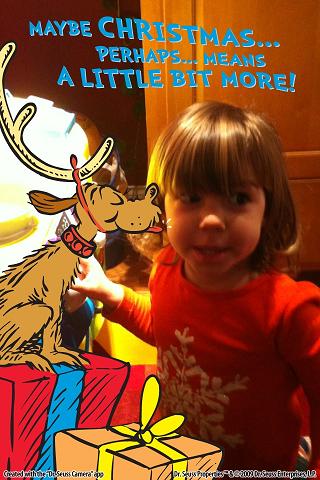 ---
2012-12-10: So, last Wednesday, Andrya came home early and we took the kids to get a tree. Niklas did a much better job this year than last, as this year's tree is big enough to hold a reasonable amount of ornaments while last year's was pretty much the slightly bigger brother of this.

Thursday was St. Nicholas Day, so the kids got to kick off their present opening season (although I guess Niklas got a Lego Star Wars Advent Calendar and Zoe got a couple of Christmas books on the first which you think I would have mentioned but here we are). Anyway, the former Bishop of Turkey brought the kids some Christmas pajamas and a couple of DVDs. Later, Josh and I took Zoe to Pump It Up where she had possibly the best time she has ever had at Pump It Up. She raced me or Josh through the obstacle course at least a dozen times and scaled the equivalent of Kilamanjaro with her many, many trips up the big slide. She also dunked a basketball a few times. After school, Niklas and I went to the Home Depot to pick up some more Christmas lights because we replaced the lights last year and this year's normal sized tree (whose name is Mr. Christmas, per Niklas) required more lights than this guy. We went to Michael Diversey's (Niklas's Fourth Favorite Restaurant!) for dinner. That featured some quality behaving by both kids which is always welcome

We finally got around to decorating the tree on Friday. Niklas and Zoe both had a fabulous time with that. In a somewhat related note, I went through a bit of superglue that evening. Niklas was particularly excited about the Christmas Countdown ornament which keeps him updated as to the number of days, hours, minutes and seconds until presents can be opened. Zoe doesn't have the best grasp of the countdown, so she just asks me if it's Christmas yet four or five times a day.

Saturday morning we exchanged gifts with Josh which worked out very well for Niklas (Avengers Legos/Star Wars Tranformers) and Zoe (Disney Princess Castle/Mike Tomlin-style coat). Andrya took Zoe out to the suburbs to meet up with some friends for brunch (a fine and well behaved time was had by all as I understand it) so Josh and I decided to take Niklas bowling. Niklas had a fabulous time (his high game was a bumper-aided 81). He jumped up and down, dished out high fives and used a combination of Carlton Fisk body english and the Force to guide is ball away from the gutters. While the bowling was awesome, the logistics of getting to the alley could have been improved as they involved several bus and train transfers, a trip to a different bowling alley that has a league on Saturday morning despite no indication that such is the case on their website and also a trip to McDonald's that was located in the middle of a massive, massive (massive) holiday-themed pub crawl. Still, success! Tammy came over and watched the kids in the evening while Andrya, Josh and I went out to celebrate Josh's birthday and to stuff ourselves silly. The kids had their typical response to that which is pretty much "don't let the door hit you on your way out, Daddy."

On Sunday, Andrya took the kids to mass while Josh and I went to visit Santa. We hit the Goose Island for lunch which meant that we hit three of Niklas's favorite four restaurants over a long weekend. You're welcome, Niklas.

Today, Josh and I took Zoe to t-ball. They switched things up a bit today so she got to play with some of the older kids which she absolutely loved. I think there's a chance that she could beat Niklas around the bases right now, though losing to his little sister might motivate him to pick up his pace. This afternoon, the kids said goodbye to Josh as he was headed back to Columbus. They both had a blast playing with him. There's some photographic proof of that (and some other stuff) here.
---
2012-12-11:
Well, today was Tuesday which means that Zoe has music class at 10:00 as she has for the past three months or so. Despite a routine that's well established at this point, I had it in my head that it was at 9:30 which is how we ended up hanging out in an empty class room for forty minutes (the bus was more timely than usual as one would expect when you're sitting on an extra half hour). Zoe had an alright time anyway. First, she hung her coat up. Then she moved her coat to the next hook, the one after that and so on through twelve hooks. It was like her approach to the swings, but probably less fun since it involved coat hanging instead of swinging. Then we read the Grinch on my phone (viva technology) and finished up killing the bonus music class time by strumming a guitar that the teacher was nice enough to let us use. Normal music class went well as is per usual.

Today in funny/odd things Niklas said while trying and failing to hide behind the Christmas tree:

Niklas - "Daddy, it would be fun if we played hide and seek on Christmas and I hid behind the Christmas tree. Nobody would find me."
Me - "Given that, I'd probably look for you behind the tree."
Niklas - "Oh... I wouldn't be behind the tree."
---
2012-12-12:
So today, Zoe and I ran all the errands in the world (or at least four contiguous neighborhoods). Neither one of us yelled very much, so success. In case anyone was worried that with Niklas in school all day I wouldn't be required to listen to the entirety of How The Grinch Stole Christmas every time I got in the car in December, don't; Zoe's picked up the slack with that.
---
2012-12-16:
Well, last Thursday, Zoe and I pretty much laid low after our triumphantly successful success at running errands the previous day. On Friday, we took the car in for service so we spent an hour or so watching Christmas videos on my phone (viva technology!) and doing silly dances (Zoe only on that one). We also finished off what I'm sure will be the last of the Christmas shopping until I remember something else. Then we picked Niklas up from school and I gave him a monster hug.

Yesterday, Niklas went over to his friend Nathan's house and they did whatever it is that six year old boys do when you put them together: made a bunch of noise, I would expect. Meanwhile, Zoe did enough coloring to give herself a blister. She suffers for her art.

I'll have some new pictures up tomorrow. Meanwhile, here's this:


---
2012-12-17: Zoe had t-ball today. That was quite successful, though her sliding technique still needs improvement. She did make an effort at it which is a step up from the last time the sliding mat made an appearance, so there was that. After t-ball, Zoe and I ran The Last Christmas Errands Of The Year Mark II which was a sequel worthy of last Friday's original performance. Zoe C. Lazy claimed to be tired from all her t-ball running about, which, combined with missing a bus by thirty seconds or so led to me carrying her about the length of Lakeview. Later, we picked Niklas up from school; he did his homework and worked on his memoirs. There are a few new pictures up in this vicinity.
---
2012-12-18:
Zoe had her last music class of the year today. There was jumping up and down, marching, more jumping up and down, a bit of singing and further jumping up and down. Later, Zoe put on her baseball hat, loaded that nativity set into her back pack and said "goodbye, Daddy; I go to t-ball by myself." Then she went to her room and read a book. So many questions.
---
2012-12-19:
So today was the winter assembly at Alcott. It featured covers of popular songs rewritten with wintry-themed lyrics, shockingly competent performances of Shakespear by second and fourth graders, an Axl Rose-like delay in appearance by the sixth grade and also this:





In case it's not obvious, that's Niklas near the middle in the red sweater. He looked way too happy during the "makes daddy cry" part. Zoe and I gave the performance two thumbs up. Zoe's thumb was in her mittens as part of her plan to leave early, but still.
---
2012-12-24:
Niklas and Zoe are in bed, if not asleep. They wish everyone a Merry Christmas!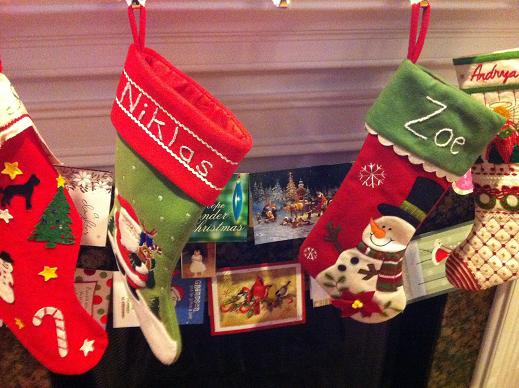 ---
2013-01-03:
Happy New Year from Niklas and Zoe! They got up to quite a bit over winter break (which ended today for Niklas with his triumphant return to school). Here's a bit about that:

December 23 Grandma and Papa Meeker came up for an early round of present opening as did Uncle Eric and his lady friend. Amongst their many, many presents, Niklas got a bunch of Legos that Papa helped him build and Zoe got a Tigger that bounces up and down. Both kids also successfully avoided eating pigs feet in which effort I applaud them.

Christmas Eve We laid fairly low after the previous days' festivities. We had my family's traditional Christmas Eve dinner (pizza) and then the kids got to open their presents from their Great Grandma Smith. Grandma set the early standard for giving noisy gifts.

Christmas This was the first time the kids have ever been home for Christmas, so that was pretty awesome. Niklas was allowed to get up at six, so Niklas was up at six. Apparently, I didn't explain to Niklas that when he got up he could wake the rest of us up so as to open presents which is why I found him on the couch patiently watching some Christmas cartoons at 7:20. Zoe finally got up around then and both kids set to opening a mountain of presents. The kids got me a gift basket from Half Acre Brewery proving that they (and Andrya) are awesome. What? Oh, right. Niklas got a bunch more Legos and the lightsabres he asked form from Santa. Zoe got a dollhouse, metric tons of dollhouse furniture and some princesses for her princess castle. Niklas spent the rest of the day pretty much assembling a month's worth of Star Wars, Spongebob and Avengers sets while Zoe decorated and redecorated her dollhouse with Andrya. I watched a Christmas Story four or five times and it was the best Christmas ever.

December 26We had planned to drive down to St. Francisville to visit Grandma and Grandpap Vennard, but St. Francisville was inundated by a couple off years worth of snow so we had to push that back a day. The day turned out to be pretty relaxing. The kids played with their new stuff and Andrya and I just hung out a bit.

We finally made it downstate the next day. I'll have something about that tomorrow. Maybe some of the very few pictures I managed to take, too.
---
2013-01-05: I hope to get back to real time updates tomorrow, but in the meantime, here are some Christmas pictures.
---
2013-01-06:
Well, here's some more stuff that we did over the holidays.

December 27 We finally managed to drive down to St. Francisville. The highlight of the drive was Zoe yelling "go, go Illini!" as we drove through Champaign. We didn't see much snow until we were practically at Grandma and Grandpap's house. Then, there was whole crap-ton of snow. As soon as we got there, the kids suited up in their snow pants and started running around outside like crazy people. Zoe chucked tiny snowballs about and laughed hysterically and Niklas jumped repeatedly into a giant snow bank. When Grandma got home from work, the kids got to open even more presents highlighted by even more Legos for Niklas, a sleepy time Tigger for Zoe and ridiculously noisy skateboarding elves for both of them. Then the kids stuffed themselves with pizza a cookies and a fine time was had by all.

December 28 On... Friday, I guess it was, we headed across the state to see some of Andrya's family. We had lunch with Malcolm and Margaret in Glen Carbon (or maybe Edwardsville, I can't pretend to know where the boundaries are). They gave the both kids some books and Zoe got a puzzle that she puzzled out right quick. Niklas played with a massive Lincoln Log set that Malcolm made years ago. He likes to model catastrophic building collapses from what I can tell. After that, we drove by the house Andrya lived in when she was born and then hung out at the hotel for a bit while the kids declined to take naps. In the evening, we drove to Smithton through an unexpected snow storm (thanks, Weather Channel) and had dinner at Mark and Kim's house with Mark and Kim (as one might expect) and Kendra, Deric and Shannon. The kids had a fabulous time (and collected still further presents). I suspect that Zoe ate a whole bowl of M&Ms due to lax supervision of my part. Both kids were up past 10:00 which is close to a modern record for both of them.

December 29 After compressing our Christmas visits into two days, we drove home, stopping to have lunch in Bloomington with Grandma and Papa Meeker. The dids were really good at lunch which was somewhat unexpected after their lack of sleep the night before. Niklas continues his streak of good behavior in the car all the way back to Chicago. Zoe took an alternate tack with that.

December 30 I don't remember doing much of anything on Sunday. Niklas finished off a couple more Lego sets and played some Nintendo. Zoe had a meltdown, I think. She had waaaaaaay too much Christmas related fun.

December 31 We went to Burger Bar for dinner. That was awesome for me and Andrya and I assume tolerable for the kids. Children love burgers and beer, as I understand it.

January 1 Jared and Dana brought Aaron and Zack over in the afternoon for some football watching (the adults), crazy running about (the older kids) and somewhat more constrained running about (Zoe and Zack). Zoe has a year or so on Zack and she was very interested in whatever he was up to which was pretty much wandering about, picking stuff up and setting it down again.

January 2 This was Niklas's last day of winter break, so Andrya took Niklas to see Wreck-It-Ralph to celebrate. Or maybe it was because he did well on his first report card a while back, I don't know. They had fun, though, which is the point.

And I guess that brings us back to now. Hooray!
---